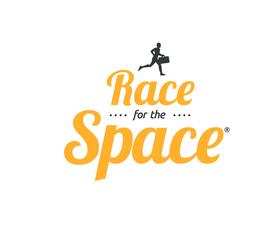 This wasn't even the beginning beginning, but it was a beginning so we'll start here. Race for the Space was a contest that was held in 2015 where a handful of potential entrepreneurs would compete for a 5,000 sq. ft. space at 127 East Ave in Rochester, NY. The winner would win a full build-out, a year of paid rent, and various other services.
It was actually my then-boyfriend, now-husband who found this contest, and he brought it to me saying "You know that blow dry bar we've been talking about…" But like many would-be entrepreneurs, I had doubts. Don't get me wrong, I LOVE what I do and I'm very good at it. At this point I'd been a stylist for over 10 years with 5 years in New York city styling some of the highest profile clients you can imagine, I had worked with and learned from some incredible stylists, and most recently, I'd spent some time in Seattle working at a blow dry bar, but could I really start and run my own business? Having recently returned to Rochester, I had no clientele, no reputation or clout here, I had no business experience, and after having a difficult time even finding a salon job, I'd actually taken a job nannying 3 kids. And like many of the people I talked to back then, I just didn't know if a "blow dry bar" without traditional hair services (cut and color) would actually work in Rochester. Could I really build a business on blowouts? "Just fill out the application," he said "What's the worst that could happen?"
He was right; at worst they reject my idea for a blow dry bar outright, and I don't even get into the contest. If I get in, then we have a chance to explore this idea using the various consulting services they provided during the contest. And who knows, we might just win! So I filled it out, sent it in, and quickly heard back. They emailed that they wanted me in the contest but there would be a $500 entry fee. I don't remember exactly how I responded to this email, but it was something like "lol, no." I didn't see the point of this fee, and at the time I don't even think I could have afforded it anyway.
Luckily, they responded that they would waive the fee, and just like that, I was in! Once the contest began, me and the other contestants would spend the next 4 weeks attending consulting meetings with various professionals that included business leaders, accountants, designers, marketers, and more. These consultations and classes were quite helpful in honing my business plan, and they really helped build my entrepreneurial confidence. To go even further, I actually went down to East Ave, where the space would be, to chat up women in the area to see if they'd be into a blow dry bar. This was actually a lot of fun, and the reception to the idea ranged anywhere from "What's that?" to "OMG YES!" but mostly on the positive side, and I walked away from that outing with a clipboard full of potential client's names, email addresses, and a sense that this could actually work.
The Race for the Space culminated in a main event where we would present our business ideas to a panel of judges and a room full of friends, family, and members of the Rochester business community. Shortly before this event, just to make things difficult, we came up with the name "Blowout Studio," which I thought was perfect, so we had to shift all of our branding. Add this stress to my fears about putting my ideas out on stage in front of such a large crowd, and I'll be honest, I almost cracked. If not for the support and encouragement of my friends, family, and husband, I may have never made it to that stage.
The event itself was so exciting, and I'm glad I went through with it. We were interviewed by various news stations, spoke with a lot of cool people in the business community and I actually crushed the presentation. The panel of judges fired questions at me, and I felt like I had all the answers. Whether or not I won the Race for the Space, I had built a business that I felt confident in and that I really wanted to pursue.
Of course, as you probably already know because we don't have an East Ave location, I did not win that night. When the results came in, I had come in 2nd behind a furniture store concept called "City Sense." When they announced that Blowout Studio had come in 2nd, I walked back up on stage only to be swiftly and awkwardly shoo'ed off because apparently 2nd place was not supposed to go on stage, lol. But despite that awkward moment, and coming in 2nd, the experience was absolutely worth it. So many women came up to me that night after the presentation and told me how badly they wanted this; they were stopping me all the way over to the parking garage as we left.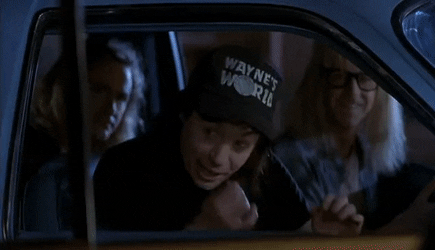 One final moment that has stuck with me was, as we left the event at Brown's Race and headed down State St, we stopped at a red light and this car pulls up next to us. The driver starts flashing the international sign for "Do you have any Grey Poupon?" So, I roll down the window, and recognize that it was one of the judges from the contest and local business mogul, Victor E. Salerno, "Good job, great presentation!" he said, "Keep going!" It was brief but very up-lifting.
Despite the setback of losing Race for the Space, this is how we felt as we drove away from that red light: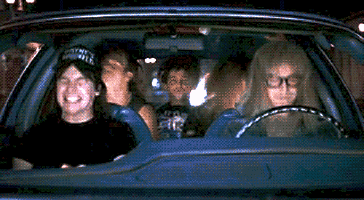 As you know, we would indeed keep going.