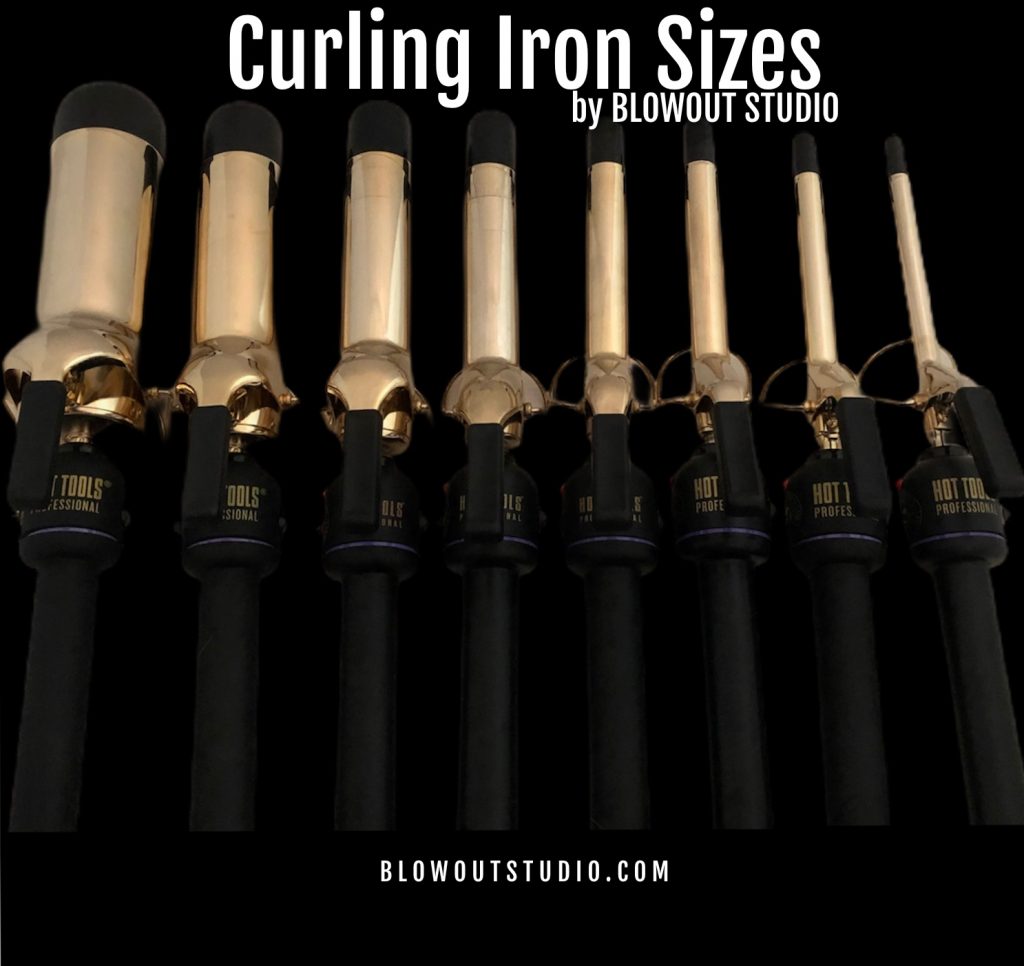 Do you ever think to yourself, "Which size curling iron should I be using?" Sometimes it can be confusing when some curling iron sizes look so similar. ¼ of an inch can make a difference between a fun, flirty beach wave and big, bouncy curls.
When deciding what size curling iron you should use you want to take your hair length into consideration as well as your final desired hairstyle. So, for instance, if you have shoulder-length hair and you use a 1″  curling iron your hair will wrap around the barrel about 4-5 times creating a wavy style. If you used a ¾″ iron on the same length hair you would get a deep wave/curlier look. If you used a bigger curling iron like a 1 ¼″ you would get a looser, larger bend/wave. The following guide will help you figure out which iron size you'll need depending on hair length and desired style. Also, these are the same guidelines you would follow for curling wand sizes.
How Does A Curling Iron Create Curl?
A curl is created by wrapping your hair around a hot curling iron barrel. Every time your hair is wrapped around the curling iron one time that creates a curl. So the more your hair wraps around the curling iron the more curl you will create. The less your hair wraps around a curling iron the less curl you will get. That's why hair length plays a role in which curling iron size to pick for the hairstyle you're trying to achieve
2″ Curling Iron
This is a mighty big curling iron. If you're just looking for a very loose wave or just big bouncy ends, with a slight curl you want to get yourself a 2 inch curling iron. 
This is a good curling iron size for long hair and the longer your hair is, the more wave you will get out of it. Using a 2″ curling iron on shorter hair will create volume and bend, not a wave or curl.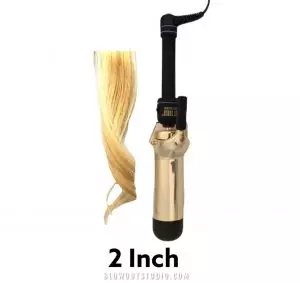 1 ½″ Curling Iron
 This size is perfect for achieving some texture and curl, and to create a bend at the end of your hair. The 1 1/2 curling iron size works best for hair that is at least shoulder length and longer.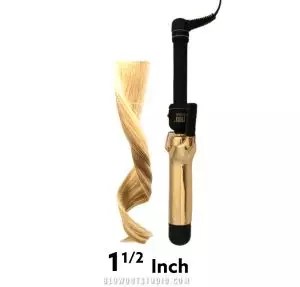 1 ¼″ Curling Iron
A 1 1/4 inch iron gives medium to long hair the perfect soft, natural, loose wave or curl. Not too tight and not too loose, this is the goldilocks of the curling iron sizes when you want to achieve a soft, natural wave.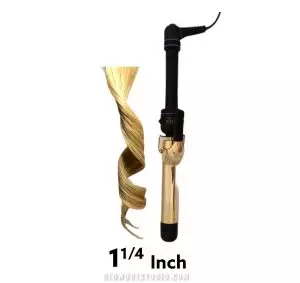 1″ Curling Iron
This is the most versatile curling iron size. With short hair, a 1″ curling iron will give you a loose wave. With medium to long hair, a 1-inch is the best curling iron size for beach waves with just the right amount of texture.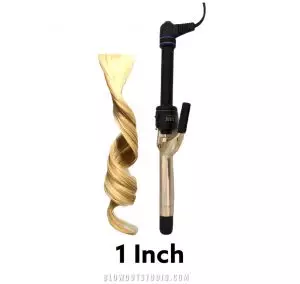 ¾″ Curling Iron
You can use the 3/4 inch size curling iron on almost any hair length. This size iron will set a nice, deep wave in your hair. If you're looking to achieve a glamorous Hollywood style the ¾ inch curling iron is the size you want.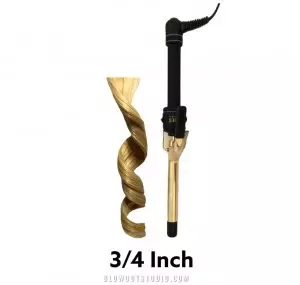 ½″ Curling Iron
This is a great curling iron size for beachy waves on short hair, about chin length or so. On longer, straight hair, you can achieve a natural-looking curl using a 1/2 inch curling iron. Or use this half-inch to enhance and smooth natural curly hair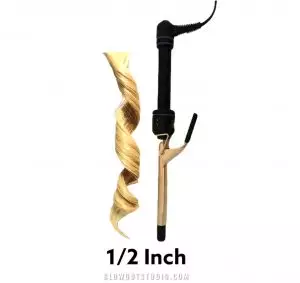 ⅝″ Curling Iron
Looking to have fun, natural-looking curls? This little 5/8 inch iron will give chin-length hair a nice beach wave, but with longer hair, you can create tight curls that look like you were born with curly hair.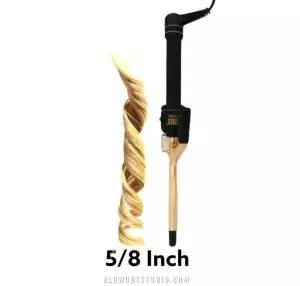 ⅜″ Curling Iron
These are the cutest little curling irons. A 3/8 inch iron is the perfect curling iron size for short hair like a pixie haircut. You can give your shorter hair a sassy little bend/curl. For longer hair, if you're wondering how to get corkscrew curls, this is your iron. This little curling iron will give you fun teeny-tiny little curls.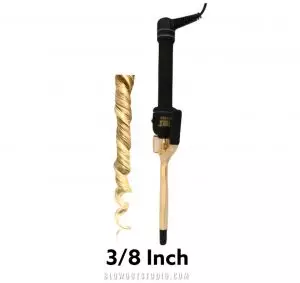 3 Tips To Remember When Using a Curling Iron
 If you find that your curls are too tight and want more of a wave, go up a curling iron size. 

If you're looking for tighter curls, use a smaller size curling iron. 

If you find that your curls aren't lasting, trying going down a curling iron size. 
Curling Iron Size Chart With Curls