Keratin Treatment at Blowout Studio
Welcome to Blowout Studio, where we provide top-notch hair care services for our esteemed clients. If you're looking for a solution to help mitigate or eliminate frizz, you might want to consider our keratin treatment. This protein-based treatment can make your hair smoother, shinier, and more manageable for 12-16 weeks.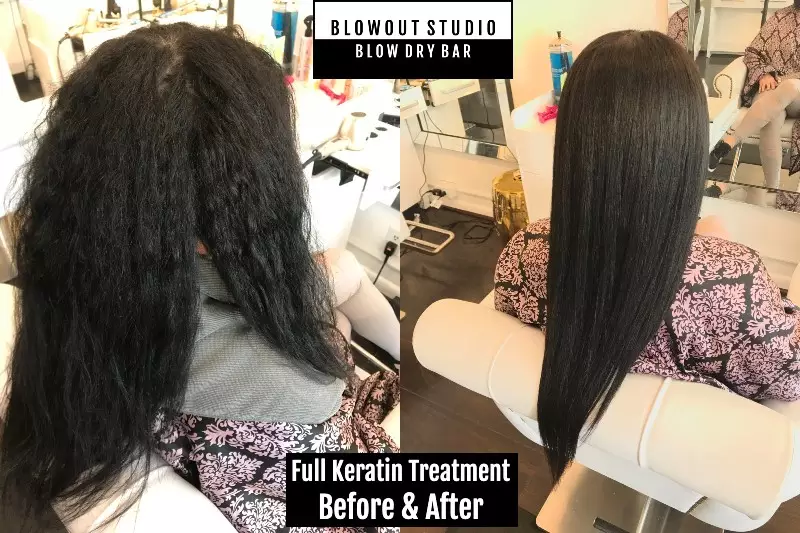 It's important to note that our Keratin treatments are "smoothing treatments" and not "straightening treatments". This means that the process smooths each individual strand, leaving your hair shiny, sleek, and easier to manage and dry while reducing frizz. Although it may temporarily relax your curls, it's not intended to be a straightening treatment. Plus, it's free of parabens, sodium chloride, and sulfates to ensure your hair is left healthy and nourished.
At Blowout Studio, we use a keratin treatment by Simply Smooth. This premium brand delivers outstanding results, leaving your hair smoother, more manageable, and frizz-free for an extended period. It does contain formalin, a formaldehyde, which helps to lock in moisture and enhance your hair's natural beauty.
For clients looking for a less expensive, formaldahyde-free, and less dramatic solution, we offer an Express Keratin option. For this, we use a treatment by Keratin Complex. This express treatment only lasts 4-6 weeks, but still provides great results. It's perfect for clients who want a quick fix for frizz that won't break the bank.
At our salon, we are committed to providing our clients with the best hair care solutions. So if you're interested in any of our Keratin treatments or have any questions, our team of experienced stylists is always happy to help. Book an appointment with us today and experience the luxury and quality that our salon has to offer!
Full Keratin: $250
Express Keratin: $125