We know you love the way your hair looks after a fresh blowout from the salon, but it can be hard to get that look at home by yourself.  What if there was a hair tool that could give you a bouncy, smooth blowout at home without holding a hair dryer in one hand and a round brush in the other? Well there is, and a "blowout brush" like the amika hair blow dryer brush is the tool you've been searching for (not to be confused with amika's "Blowout Babe" brush, which, ironically, doesn't blow).
A hair dryer brush combines a blow dryer and a round brush into one tool. Think of a round brush that blows out hot air and dries your hair at the same time that you're brushing your hair. I've been seeing these devices pop up more and more, and we carry amika in the salon, so once they released this brush, I had to finally give one a try.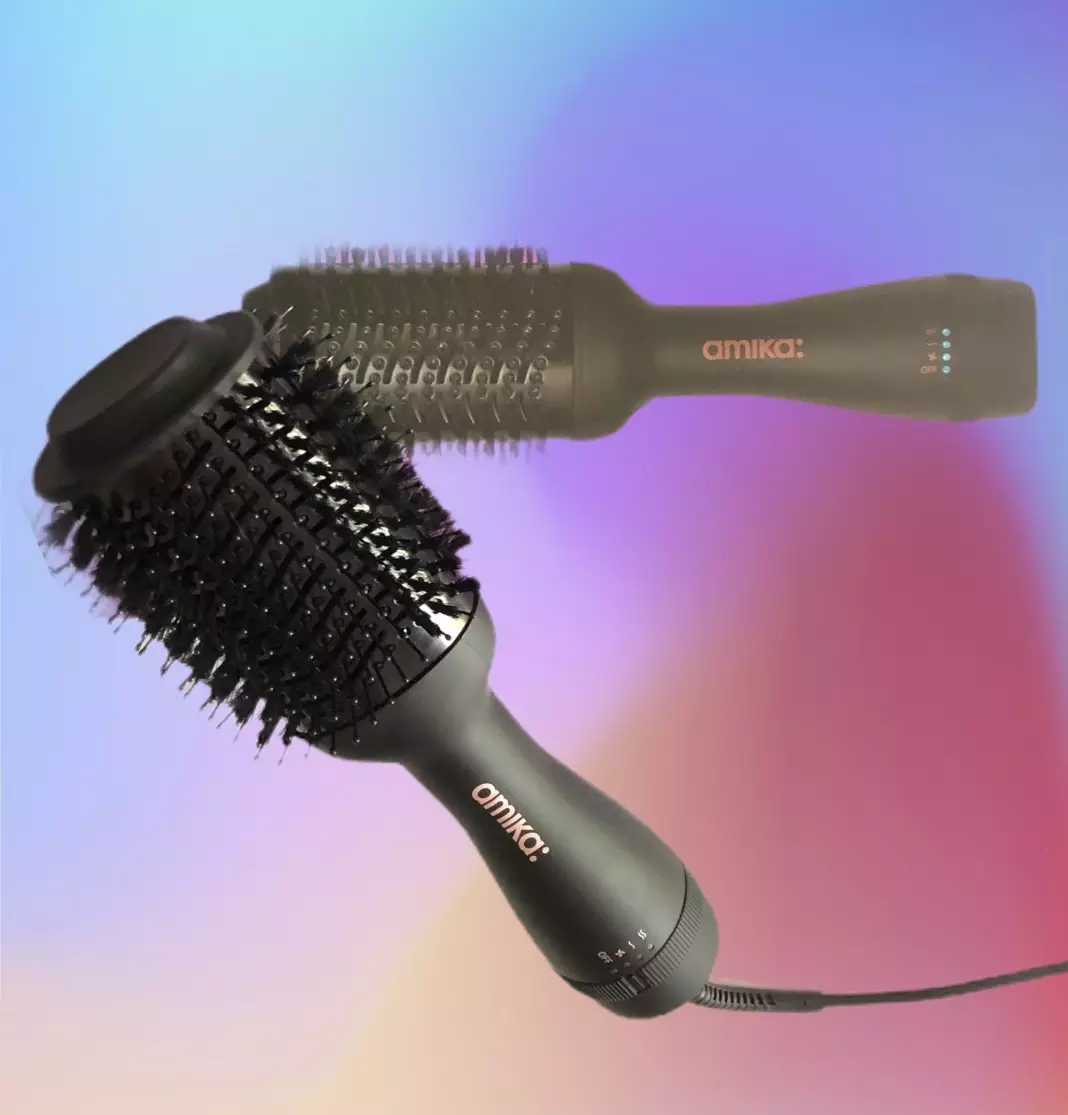 I wasn't sure what to make of this device because the beauty industry can tend to have a lot of gimmicky "problem fixers" that don't ever live up to the hype, but this blow dryer round brush actually works really well and it's very easy to use. You just place a section of hair on the hair dryer brush, and slowly move down your hair shaft and to the ends of your hair while maintaining good tension. You just repeat this motion until the section is dry and move onto the next section of hair. All at the same time, this one tool dries your hair, seals your cuticle for a smooth finish which adds shine, and leaves your hair bouncy and voluminous. The results almost look like you've spent an hour using a round brush and a hair dryer to style it, and the blowout holds up pretty well a day or two later.
I've done a lot of blowouts, both at Blowout Studio and on myself, and this hair tool is definitely worth having around. If you love a good blowout but you can't make it to your local blow dry bar or salon, you can just whip out this dryer brush and get the job done. This amika hot air brush is a game-changer for my hair routine, and a time saver to give yourself a smooth blowout at home. 
Pros and Cons of the amika Hair Blow Dryer Brush
Pros
Easy to use; this 1 tool is easier to handle than a hair dryer and round brush.
Lightweight; at only .85 lbs, it wasn't hard to hold for the duration of the blowout.
Fast drying time; the large barrel allows you to take large sections which speeds up drying time.
Quieter than other dryer brushes.
Results are near salon quality.
Cons
The large barrel limits the styles you can achieve. It's great for a simple, straight, smooth, bouncy blowout, but any other style requires hot tools once your hair is dry.
This dryer can't pre-dry. I found it can be used without pre-drying with good results, but if you want to pre-dry, you need another dryer.
How To Use the amika Hair Dryer Brush
These are the steps that I've found give the best possible results:
Step 1 – Towel dry your hair before you get started. Don't be too rough when towel drying, because it can cause frizz. Just gently blot the water out of your hair using a T-shirt or microfiber hair towel. If you have really long or thick hair you may want to pre-dry with a regular hair dryer first.
Step 2 – Apply a styling product. Use any hair product you like when styling your hair. I used amika's Glass Action Universal Elixir. It's a heat protectant and smoothing elixir that works great for my medium wavy hair.
Step 3 – Section your hair. Always start at the bottom and work your way up. I like to start with the side then move to the back and continue that pattern as I work my way up.
Step 4 – Take your first section of hair and place the blowout brush as close to your roots as you can, give the brush a little turn away from your root to create tension, and start to move down towards your ends. While moving down your section of hair, hold your section at a 45° angle to help reduce frizzing.
Step 5 – When you get to your ends, rotate the brush around a few times to seal your ends so they get nice and smooth.
Step 6 – Keep repeating steps 3 & 4 until your hair is dry.

Final Thoughts
Amika's Hair Dryer Brush is super lightweight which make it easy to handle, and my arms didn't get tired while I was blowing out my hair. It has long nylon bristles for smoothing, combined with shorter bristles to help create lift and volume. 3 heat settings for temperature control which is ideal when you are using any hair styling tool. This blowout brush has an oval barrel instead of a round barrel giving you more surface area to help smooth your hair while it creates volume. A tourmaline coated barrel emits negative ions which reduces static and frizz making it easier to smooth your hair. All in all, this amika hot air brush is a great hair tool to have at home to give yourself a quick blowout on your own if you have medium of long hair.
Lightweight and easy to handle

Different length bristles for polishing and lift

3 temperature and speed settings

Oval shaped barrel for smoothing and volume

Tourmaline coated barrel to reduce static and frizz

1-year warranty
I was pleasantly surprised at how well this brush hair dryer works, and if I just want a quick and simple blowout, this is my new go-to tool.