Though this styling technique has been around a while, I still have a lot of people come in and ask "What is a blowout?" Here's our take on it.
A blowout is a transformative experience that will allow you to confidently put your best foot forward in any situation. Better yet, a blowout can last up to 5 days, so you can keep wowing the world day after day.
More technically, a blowout for hair is a styling technique that consists of blow drying, while styling and shaping your hair using a round brush. This gives the hair polish and a hairstyle that lasts.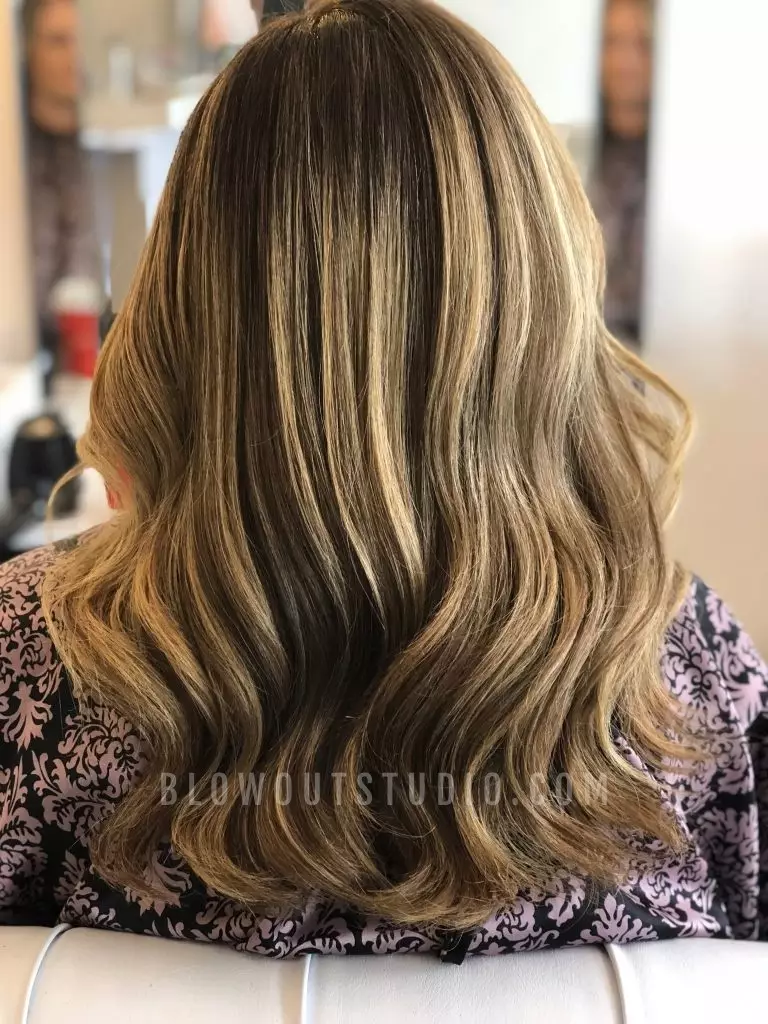 Blowout Studio's expert stylists use this technique to add shape and body to your hair as it dries and sets. Training our stylists in this technique ensures that a Blowout Studio blowout can be done without hot tools, and can maintain its appearance for days. This method is used to achieve many different looks, including straight and flowing, a perfectly smooth and shaped bob, big curls, small curls, fun beachy waves, just about anything you can imagine. And this technique can be used to style all hair types and textures.
There's some cool science behind why this technique works so well that involves the hydrogen bonds in your hair, and how they react when your hair is wet, and re-form as we dry it. This is why our blowouts can last up to 5 days (depending on hair type). We are naturally, and safely re-shaping your hair.
Blowout vs. Blow Dry
What's the difference between a blowout and just a blow dry? The difference is in the styling of the hair as it's drying using a round brush; this is a blowout. If you are just drying hair using a blow dryer, even if using a brush to reduce frizz, this is a simple blow dry. It is a combination of the ionic air flow, heat from the dryer and thermal round brush, and the shaping and sculpting of the hair using the round brush as the hair dries that separates a proper blowout from a mere blow dry. After a blow dry, hot tools like a flat iron or curling iron are needed to achieve a style. With a blowout, the style is achieved as the hair is dried using only the hair dryer and the round brush. So, is a blowout the same as a blow dry? No. While a blowout is a type of blow dry, not all blow dries are a blowout.
The Procedure & Tools Used For A Blowout
Prior to receiving your blowout at Blowout Studio, you'll have a brief consultation with your stylist about the style you desire, and then you'll be treated to a relaxing shampoo that gets your hair clean, and ready for styling.
After the shampoo, you'll return to your chair where the stylist will start your blowout. It can take anywhere from 30 mins to an hour or more, depending on hair length, thickness, texture, etc, to craft your hair into your desired style.
At Blowout Studio, a blowout is done using only a brush and a hair dryer.
We emphasize this point because we believe it's an important distinction. Any stylist can simply dry your hair, and then use hot tools to get a look, but few have the skill to due to a proper blowout that finishes drying with a set style. This technique, which Blowout Studio's owner, Jes, learned from elite stylists in NYC, is derived from the French technique known as "le brushing." It is something that can be taught fairly quickly but can take a lifetime to truly master. All of our stylists are thoroughly trained in this technique.
Once your blowout is complete, whether curly, straight, or wavy, additional styling tools might be used once the hair is dry for specific styles or looks. We achieve these styles using curling irons, flat irons, hot rollers, etc. However, with what we can achieve with our blowouts, these tools are usually not needed.
Blowout Products
The products used for a blowout start with a good shampoo & conditioner to ensure your hair is clean & healthy prior to starting. This gives our stylists a blank canvas to work with. We use amika hair products, which are paraben and sulfate-free, as well as cruelty-free.
We then apply a blowout spray or heat protectant spray to protect your hair from the heat of the hair dryer. Depending on your hair's texture, we may also add additional products like a good hair cream or serum. Finally, we might finish off with one of amika's hair sprays to hold the look depending on what you're up to that day, and how much hold you need.
We'll always ask if you want product in your hair. Some people prefer a product-free blowout and that's okay! We can still get your hair looking great without them.
How much does a blowout cost?
The BOS Blowout at Blowout Studio costs $49. Prices at salons and other blow dry bars can vary, starting around $30-35 and going up to $100 or more on the higher end.
How long does a blowout take?
A blowout can take 30 minutes to an hour or more, depending on hair thickness and length. Our blowouts tend to average around 45 minutes.
What does a blowout include?
At Blowout Studio, our blowouts include a thorough shampoo and scalp massage, followed by a round brush blowout in the style of your choice.
How long does a blowout last?
Our Blowouts can last 3-4 days depending on your hair type, texture, and how you care for it those days.  Some can go even longer.
What is a blow dry bar?
A blow dry bar is a place like Blowout Studio that focuses on styling and caring for hair, specifically using a blowout. Some blow dry bars may have additional services like makeup, or waxing, but they generally don't offer haircuts or color.
Blowouts vs. "Brazilian Blowout" vs. Keratin Treatment
People can get confused between brand named products that use the word "blowout" and the actual procedure of a blowout described here. Many products use that term to try to associate their product with the incredible results of a properly done blowout.
A keratin treatment is a protein treatment for your hair that makes hair smoother, shinier and more manageable.
Brazilian Blowout is a brand of keratin treatment. At Blowout Studio we use a brand of keratin called Simply Smooth.
So a blowout is the blow drying & styling process defined above, a keratin treatment is a hair treatment that smooths hair and Brazilian Blowout is a brand of keratin treatment.