Fall is on it's way and what a beautiful time of year. Pumpkin spice everything, beautiful warm colors everywhere, including your new hair color for fall. We can find inspirations in the fall season all around us. Beautiful red hair color from the leaves, blonde hair color from corn silk, and dark brown hair color from roasted chestnuts.
The best way to get your perfect fall hair color is to not stray too far from what your hair colorist has already been doing. If you have platinum blonde hair try a nice creamy corn silk blonde. Or change things up with a icy cool tone. If you're a strawberry blonde go for a dusty rose or pumpkin spice hair color. Redheads, let's take your hair color to a dark red hair color or an auburn hair color. Brunettes let's add some dimension with cinnamon tones or what about a sexy raven black hair color?
Hair Color Ideas
Some say warm up blonde hair for fall, I say do what you want. Icey cool blonde makes a great fall hair color too.
Tiffanie Richards of Nunzio Saviano Salon In Manhattan is a master colorist. Her work has been in Elle UK, Life & Style Magazine, Women's Health Magazine, just to name a few. I worked with her for many years and she has made my hair every color you can think of. From a redhead, to a brunette to blonde, and everything in between all while keeping the integrity of my hair. Here is some of her beautiful hair colors she has created. Check out more of her work on instagram @tiffanierichardsnyc and to book an appointment head to www.nunziosaviano.com If you live in NYC go check her out!
Blonde Hair Colors From Gold To Ice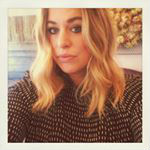 Laura Estroff is a colorist to keep your on eye. She has colored the hair of the stars, been featured in Vogue Online, and has been a part of NYC fashion week. She is Head colorist at Kennaland Salon in Brooklyn, NY. She is a master at creating the perfect hair color for you. From the richest reds and the brightest blondes to my new favorite hair color for fall, a perfect warm brown. Check out her work on instagram @lauraestroff and book an appointmwnt with her on her website at lauraestroff.com If you need your color done and live in New York or are taking a vacation there book an appointment with her ASAP.
The In Between-Bronde Hair color
What is Bronde you may ask? It's that perfect balance of not too blonde yet not quite brunette. If bronde hair color is what you are looking for check these out.
Sultry Red Hair Colors
Being a redhead is so much fun. I was one for a brief period of time. I always envy natural redheads. If you have always wanted to be a redhead check out these awesome red and copper tones below to get some inspiration.
Beautiful Brunette Hair Color Ideas
From dark brown with cinnamon tones to raven black . Something about being a brunette makes you feel mysterious.
A Special Thanks to my two beautiful and crazy talented friends Tiffanie Richards and Laura Estroff, the best hair colorist in New York City. Now go get your fall hair color!