Best Round Brush For Blowouts
At Blowout Studio, we're using our round brushes all day every day. If anyone knows what makes the best round brush, it's us. We've found that the following round brushes work in almost every situation for any kind of hair, with the Creative Pro Ceramic being our all-around go-to brush.
Here is our guide for the best round brush for blowouts for 2018. By "best" we mean that they're high-quality, versatile (for most hair types), and are reasonably priced.
---
Creative Pro Ceramic Round Brushes

First up is my absolute favorite. I've had my Creative Pro ceramic round brushes for over 5 years. The barrel of the brush is made from high quality ceramic that allows for even heat distribution over the entire barrel.
The bristles are made from nylon, and are placed closely together which is great for creating tension. Tension is crucial for a smooth blowout. Creative Pro  round brushes come in 5 different sizes so it should be easy to find the perfect size for your hair length.
Available Sizes: 1.0″, 1.5″, 2.0″, 2.5″, 3.0″
---
1907 Cooper Round Brush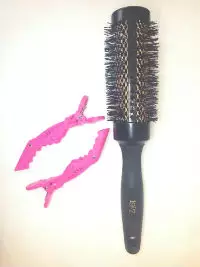 The 1907 is an awesome combination boar and nylon bristle brush. The barrel is made with copper elements which, according to the manufacturer, helps speed up drying time.
This round brush is made up with nylon bristles all over and has a strip of 100% boar bristle that helps create tension to achieve a smooth, shiny blowout. This brush is ideal for finer hair because it helps create volume and body with the help of the boar bristles.
Available sizes: 1.5″, 2.5″, 3.0″, 3.5″
---
Moroccanoil Ceramic Round Brush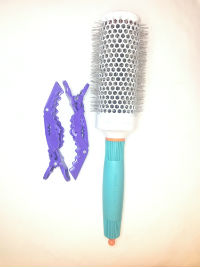 I use Moroccanoil ceramic round brushes in the salon and at home. They're lightweight and easy to handle. The hair dryer heats this barrel up perfectly, which is awesome for creating curly blowouts or sleek straight blowouts. The nylon bristles grip the hair so it stays in place while on the brush.
Available Sizes: 25mm, 35mm, 45mm, 55mm
---
A round brush is a fairly simple product, yet there are many variations and choices out there. The above three are the best round brushes blowouts – and that's coming from someone who does blowouts all day every day. Once you've honed in on your favorite brush, you can play around with different sizes to get the different looks you want.