At Blowout Studio, we're using our round brushes all day every day to create perfect blowouts for our clients. If anyone knows what makes the best round brush, it's us. We've found that the following round brushes work in almost every situation for any kind of hair, with the Creative Pro Ceramic being our all-around go-to brush.
Here is our guide for the best round brush for blowouts. By "best" we mean that they're high-quality, versatile (for most hair types), can keep good tension, comfortable to wield, and get the job done quickly with no frizz.
Creative Pro Ceramic Round Brushes

First up is my absolute favorite. I've had my Creative Pro ceramic round brushes for what seems like forever, and it's what we mainly use at Blowout Studio. The barrel of the brush is made from high quality ceramic that allows for even heat distribution over the entire barrel.
The bristles are made from nylon, and are placed closely together which is great for creating tension. Tension is crucial for a smooth blowout. Round brushes come in different sizes and these Creative Pros have 5 different sizes, so it should be easy to find the perfect size round brush for your hair length.
One my favorite features of this brush is the way the handle and barrel are constructed and connected. Many brushes are made in a way that causes hair to snag and pull where the barrel meets the handle, but these brushes seem to do that much less than other brushes I've used.
Available Sizes: 1.0″, 1.5″, 2.0″, 2.5″, 3.0″
1907 Cooper Round Brush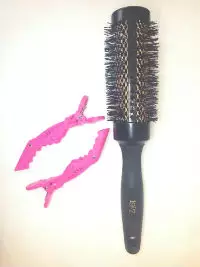 The 1907 is an awesome combination boar and nylon bristle brush. The barrel is made with copper elements which, according to the manufacturer, helps speed up drying time.
This round brush is made up with nylon bristles all over and has a strip of 100% boar bristle that helps create tension to achieve a smooth, shiny blowout. This brush is ideal for finer hair because it helps create volume and body with the help of the boar bristles.
Available sizes: 1.5″, 2.5″, 3.0″, 3.5″
Moroccanoil Ceramic Round Brush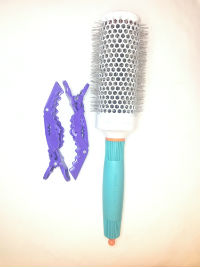 I use Moroccanoil ceramic round brushes in the salon and at home. They're lightweight and easy to handle. The hair dryer heats this barrel up perfectly, which is awesome for creating curly blowouts or sleek straight blowouts. The nylon bristles grip the hair so it stays in place while on the brush.
Available Sizes: 25mm, 35mm, 45mm, 55mm
---
Above is the most updated version of this post, while the post below was one I posted on my old hair advice blog called "Blow Dry Styles" which I've merged with the blog here. I plan to overhaul and update the entire post soon, though not much has changed. These are still the best brushes for blowouts.
---
When I'm in the salon, I get asked this question all the time: "What is the best round brush for blow drying hair?"  Blow drying hair smooth with a round brush is becoming more and more popular, and with the right tools you can blow out your hair at home. The best hairbrush for blowouts is, of course, a vented round brush. And when choosing a round brush there are a few factors you need to consider. What is your hair texture? Is your hair long or short?   I am here to help break down the difference between round brushes so you can find the blowout brush that will work best for you and your hair.
Round Brush 101
Ceramic Round Brush – Ceramic brushes are great when you want to curl your hair with a brush or blow out your hair straight. The barrel of the brush heats up from the heat of the hair dryer and can act as a curling iron or a flat iron. Make sure your ceramic round brush is vented on the barrel. The technique you use to blow out your hair will determine whether it comes out straight or curly. Ceramic blowout brushes are great for all hair textures and lengths. Now, the length of your hair will determine which size brush to use. Further down in this article I will break down what size you should use for your length of hair.
Boar Bristle Round Brush – A Boar bristle brush is a natural way to achieve a smooth & shiny blowout. Boar bristle brushes can come with either a ceramic, or wood barrel. The bristles of this style brush offer a little more grip than synthetic bristles. I like to use a boar bristle brush on fine hair because it keeps the tension on fine hair better then a ceramic round brush. You need to have even tension on your hair when blow drying to create a smooth, frizz free blow dry. A boar bristle brush can be a little tough to get use to using but with practice, and my help, you will be a pro in no time.
Size Of Round Brush Breakdown – Another important thing to consider with round brushes is size. What you need to keep in mind is that the length and texture of your hair, and how much volume and curl you are trying to create determines the size brush you need. The bigger the round brush, the more volume and straighter look you will get. The smaller the round brush, the less volume you will have and it will create more bend or curl. A small to medium round brush works well in straight hair to help give you bend. If the brush is too big it will create a lot of volume and won't give straight hair any bend. If you are looking for a straight, full of volume look then the bigger the brush the better. If you have curly hair you probably already have a lot of volume so using a small to medium size round brush will make it easier to smooth your hair out and take down volume. If you use too large of a round brush with curly hair you will end up with fluffy not so sleek locks. The right size brush will help you get through your hair with out getting tangled and achieve the smooth sleek look you want.
Short hair (chin length and shorter) – Use a small to medium round brush 1″ (25mm) to 1.4″ (35mm)
Medium hair (chin length to collar bone) – Use a medium round brush 1.4″ (35mm) to 1.7″ (45mm)
Long hair ( Collar bone length or longer) – Use a medium to large round brush 1.7″ (45mm) to 2.2″ (55mm)
It always a great idea to mix and match brands, sizes, ceramic and wood, synthetic and boar bristle brushes when building your brush collection. Not only does that allow you to have options when styling, it gives you more experience so you can learn what you love. Each professional round brush has something to offer. I always have more than one brand and size in multiple types when I'm at the salon, out styling for weddings, or on photo shoots. Even if you're not a professional, it's great to have options.
Moroccanoil Ceramic Round Brushes
Moroccanoil round brushes are some of my favorites. I've used them in the in the salon for years. Not only do I love these blowout brushes, but my clients do too.
I give my clients the round brush that best works for their hair to take home so they can re-create the blow out I give them. You don't always have the time to make it to the salon, so by being equipped with the right tools you can blow out your hair at home.
Reduces drying time
Rubber handle slip-free grip
Strong and durable
Enhances shine
Comes in different sizes
Moroccanoil Ceramic Round Brush With Boar Bristles
While most other boar bristle round brushes have a wooden barrel, these brushes have a ceramic barrel with boar bristles. It gives you the heat-up factor of an all ceramic round brush with the little extra grip you get with natural boar bristles. This style of round brush can be a little harder to work with, but is indispensable when dealing with fine hair. Real boar bristle brushes tend to be more expensive, but they will last you a long time. I have had mine for over 5 years of all day usage. With this type of brush, price is a factor, and if the brush is cheap, it most likely uses synthetic bristles and won't work as well. If you pay for quality up front, you'll he happier with the results and you won't have to constantly replace your brush.
Hand made with natural premium materials
Stimulates scalp
Promote healthy hair
Comes in different sizes
Olivia Garden Ceramic Round Brushes
Olivia Garden brushes are so pretty. They make you feel extra beautiful when styling with these brushes. They offer extra large vents which allows air to pass through the barrel of the brush so your hair dries quickly and evenly. You'll definitely want these in your arsenal of round brushes.
Heats up fast and stays hot for an even blow dry
Adds shine
Eliminates frizz
Comfortable to hold
Comes in different sizes (inches instead of mm)
1 inch – Chin length and shorter
1½ inch – Chin length to collar bone
1¾ inch – Collar bone and longer
2 1/8 inch – Collar bone and longer
Bass Boar Bristle Brushes
Bass boar bristle brushes are the real deal. They have 100% ild boar bristles with a wooden barrel and handle. This style blow out brush leaves hair and shiny while using all natural materials.
Great for fine to medium hair
V shaped bristles for extra grip
Light weight
Comes in different sizes
extra small – Great for pixie hairstyles and men
small – Chin length or shorter
medium – Chin length to collar bone
large – Collar bone and longer
extra large – Great for really long hair