If you're an at-home blowout enthusiast, you've surely heard about this newer category of hair tools called "hair dryer brushes," "blow dryer brushes," or "blowout brushes." A blowout brush is a hair tool that blows air while it dries and styles your hair at the same time; it's a round brush and a hair dryer in one tool. This tools makes it easier to give yourself an at-home blowout without needing to hold a hairdryer in one hand and a round brush in the other. These hot air brushes leave your hair voluminous, shiny, straight, and smooth all with one easy tool. This is definitely a tool worth having to achieve a quick, bouncy blowout at home without all the fuss. I've been testing out blowout brushes to bring to you the best hair dryer brushes out there, and here is a break down of some of the different brands to help you decide what blow dryer round brush works best for you.
Amika Hair Blow Dryer Brush
Amika's hair dryer brush is super lightweight and easy to handle. The blowout brush has two different length bristles which polish your hair while creating lift at the same time. The barrel of the brush is an oval shape that gives the hair tension creating a smooth, shiny blowout. 3 different heat and speed settings with a LED light indicator. This blowout brush is definitely the quietest out of the hair dryer brushes.
Check out our in-depth review: Amika Hair Blow Dryer Brush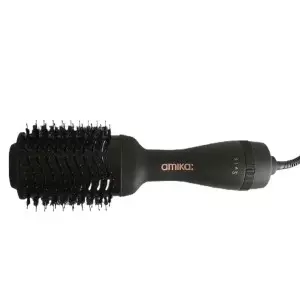 Pros
Easy to use
Lightweight
Fast drying time
Quieter than other dryer brushes
Results are near salon quality
Cons
The large barrel limits the styles you can achieve
This dryer can't pre-dry, however it works well enough without pre-drying
Revlon One-Step Hair Dryer Brush
The Revlon brush blow dryer was one of the earliest blowout brushes. An oval vent barrel for easy airflow, straightening, and fast-drying time. A mix of bristle lengths and texture will smooth your hair and give you volume in one easy motion.
Check out our in-depth review: Revlon One-Step Hair Dryer Brush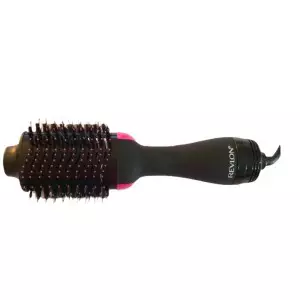 Pros
Easy to use
Dries hair quickly
Creates volume
Cons
Heavier than other blow dryer brushes
Get's a little hot
Loud
Large barrel means limited styles
Can't pre-dry
Hot Tools One-Step Blowout Brush
The Hot Tools hair dryer brush has a 24K gold plated barrel that heats up fast and stays hot and the barrel is vented for easy airflow. The swivel cord makes it easy to rotate the brush 360° which allows you to easily create bend and curl. The oval barrel will smooth and straighten your hair while the two different length bristles add shine and volume.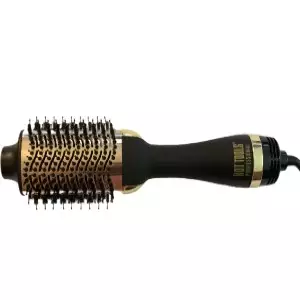 Pros
Easy to use
Gives a good blowout
Bed Head Blow Out Freak
This brightly colored blowout brush has a mix of bristles in a mixed pattern to give you maximum volume and tension, and control. The oval barrel creates a bouncy and smooth hairstyle while eliminating frizz at the same time. Different heat and speed settings will make it easy to find a combination that works for you.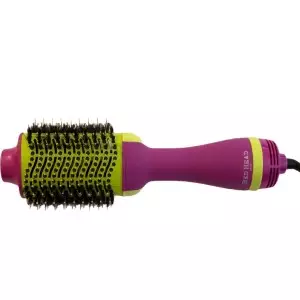 Pros
Lightweight
Fast dry time