If you love a good blowout then you know you've got to set that day aside to wash and blowout your hair, or you have to hit the blowout bar. Whichever way you go, it can be a bit of a chore. Sometimes you might even push it out a day or two because you just don't feel like spending an hour or more on your hair. If this sounds familiar, you might want to check out the Revlon blow dryer brush, the "One-Step;" it makes the arduous task of blowing out your own hair a little easier by putting 2 tools in 1.
The Revlon One-Step is a brush and a hair dryer in one tool that will save you time and energy while you give yourself a beautiful blowout at home. This hair tool dries your hair while styling it at the same time. In other words, you don't have to have your blow drier in one hand, and a round brush in the other while wrangling your locks. Having a free hand while giving yourself a blowout is a life saver.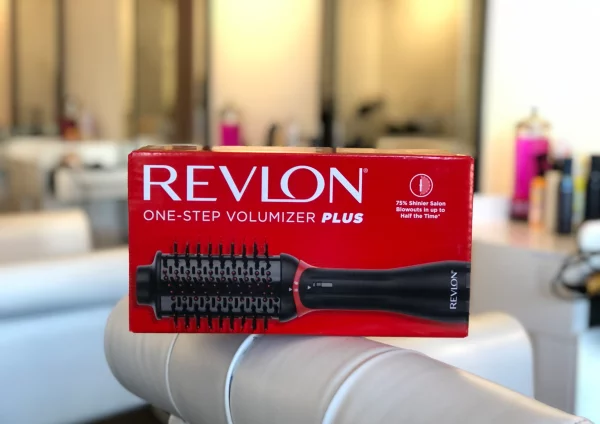 This tool is so easy to use that even a blowout beginner should be able to achieve great results. Revlon's hair dryer brush will smooth your hair with tension that the ceramic oval barrel creates, and the two different length bristles will give your hair volume and polish your hair which adds shine all at the same time. You just place a section of hair onto the barrel starting at your roots a slowly move down your hair to the ends. Now, you can achieve a blowout that looks a lot like a salon blowout at home (though your hair won't feel quite the same as a proper blowout, iykyk).
[2023 Update] So, I wrote this post during the pandemic in 2020, and have actually been using the original one-step on occasion since then because it's such a handy tool, but I had certain issues with it outlined in the "cons" section below.
Well, I recently got the latest version, the One-Step Plus, and I have to say, I love this tool. It is lighter, and quieter, and it's not scorching hot but still hot enough to get the job done quickly.
It has a smaller circumference brush that more closely resembles a round brush, and that really improves how it grips the hair allowing for much better tension. It also just looks sleeker and less clunky. They've also added a removable head feature which makes it easier to pack and store.
All in all, this is a useful tool and it only costs about as much as a blowout. And this new brush does produce a final style that feels a lot closer to a proper blowout.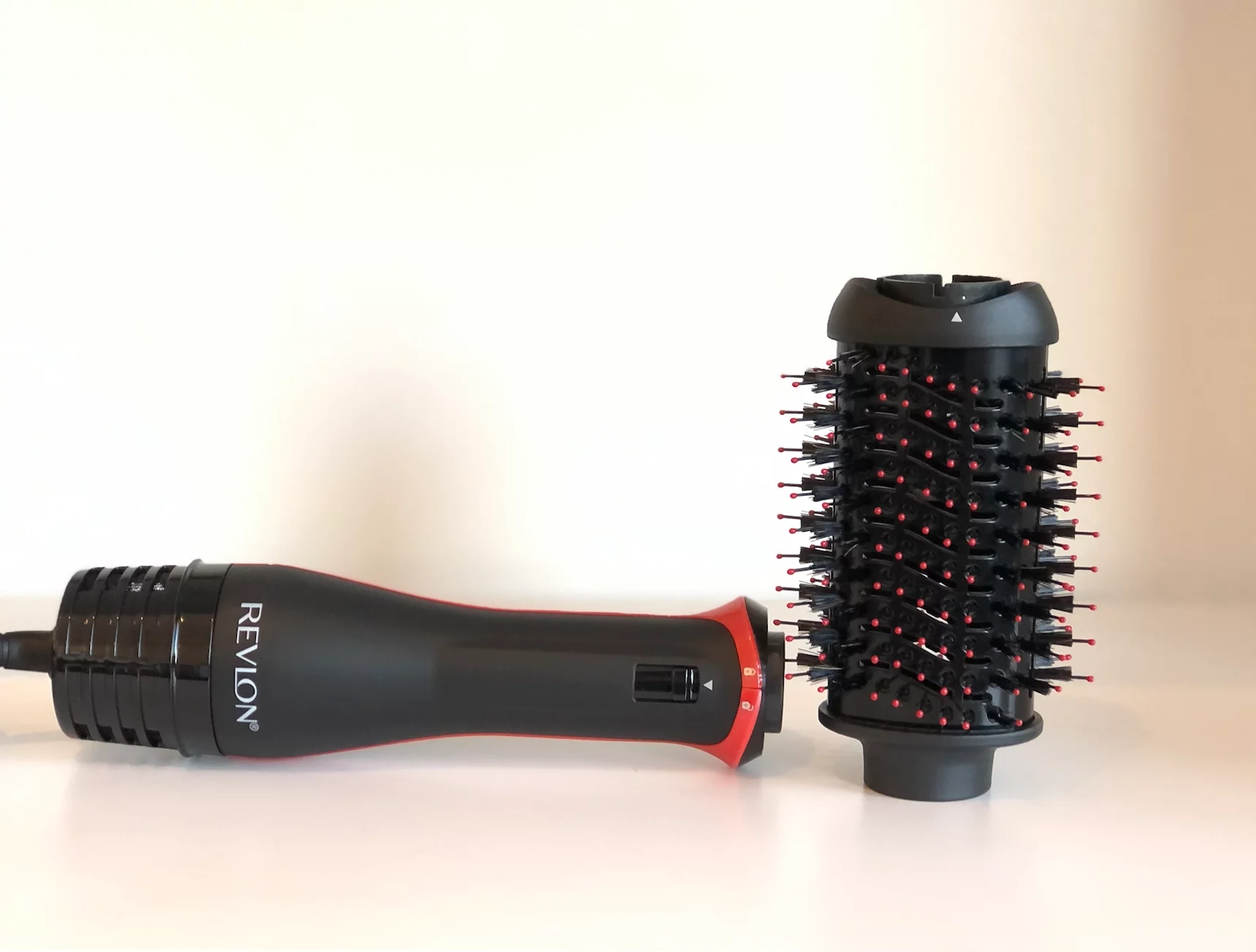 Pros and Cons of the Revlon One-Step Blow Dryer Brush 
Pros
Easy to use; this 1 tool is easier to handle than a hair dryer and round brush.
Fast drying time; the large barrel allows you to take large sections which speeds up drying time.
Creates volume. If you love a straight, voluminous blowout, this is for you
Inexpensive; at the cost of being a little heavy, loud, and hot, the Revlon does about as good a job as more expensive dryer brushes.
Cons (One-Step Plus)
My only con with this brush, which is the same for any of this type of tool, is that it can really only achieve a straight blowout. It is difficult-to-impossible to get curl or wave with it, so you will need to use additional hot tools to achieve other styles.
Cons (Original One-Step)
Heavy; at 1.8 lbs, it isn't unbearable but it's heavier than some of the other lightweight dryer brushes that weigh less than 1 lbs.
Noisy; the One-Step is on the loud side compared to others.
Hot; This dryer runs a bit hot which can cause sweating making it more difficult to blow out your hair.
Like other similarly shaped dryer brushes, the large barrel limits the styles you can achieve. If you like bouncy, straight and smooth, this brush will work. Any additional style will require hot tools.
This dryer can't pre-dry. You can use it without pre-drying with good results, but if you want to pre-dry, you need another dryer.
How To Use Your Revlon One-Step Hair Dryer Brush
Step 1 – Start with freshly wash and towel-dried hair. Use a microfiber hair towel or a T-shirt to blot excess water out of your hair. 
Step 2 – Apply your favorite hair products for a blowout. If your hair tends to frizz, use a smoothing cream. Or if you're looking for a little extra volume, grab your favorite volumizing blowout spray.
Step 3 – Section your hair to help stay in control while your are drying it. Start at the bottom of your hair and work your way up. Begin with sides then go to the back. Once your first bottom half is dry drop your next section and continue this sectioning and drying pattern all the way up until your hair is dry. 
Step 4 – Place your section of hair on the brush at your roots and give the brush a little turn to help grab the hair and create tension. Next, slowly move down your hair shaft until you reach your ends and then give the hairdryer brush a few 360° turns to smooth and seal your ends. 
Step 5 – Repeat steps 3 & 4 until all your hair is dry, and that's how to use a blow dryer brush.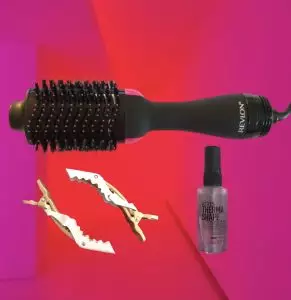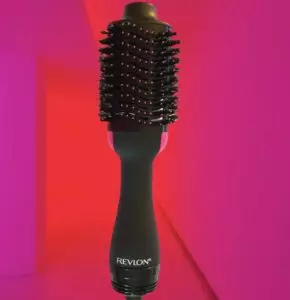 Final Thoughts
The Revlon One-Step hair dryer brush has a ceramic coated oval barrel that helps retain heat for faster drying time and tension for smoothing. It has two different lengths bristle so it will polish your hair while creating lift at the same time. It has a vented barrel for easy airflow to make sure every part of your hair is getting dried. 3 different heat and speed settings to help control the temperature and speed you feel comfortable using. The oval barrel creates more surface space than most round brushes so it allows you to take a larger section of your hair when drying. This large oval design is great for medium and long hair, but not for shorter hair.
Compared to more expensive dryer brushes, the Revlon is almost half the price of some, and does about as good a job if you can handle a little extra weight and noise. If you want a quieter, lighter brush, check out the amika hair blow dryer brush. That last bit was for the old version, if you want a quieter, lighter brush, just get yourself the new version of the Revlon One-Step Plus.