If you have curly hair you already know that getting it straight can take a lot of time and a lot of effort, but it's totally worth the results. Curly hair tends to be drier and coarse which can make it more difficult to straighten. Knowing the right techniques to get curly hair straight, and the best hair products and tools to use to get the job done will make it a whole lot easier for you.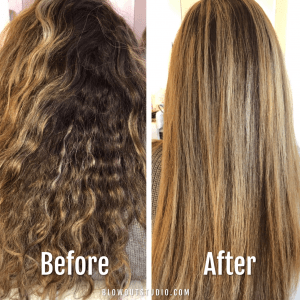 Hair Products & Tools Needed
First, let's take a look at what you'll need to achieve the best results when flat ironing curly hair.
Hair Tools
Carbon Fiber Comb

Flat Iron with Temp. Control*

Hair Dryer & Concentrator

Hair Clips
Hair Products
Smoothing Cream or Serum
Flat Ironing Heat Protectant Spray
*Make sure you're using a flat iron with temperature control. Not just high, medium, low. Have the temperature of your flat iron set between 410° to 450°. If your iron isn't hot enough you'll have to do more passes on each section of hair causing damage. Also if the temperature of your flat iron is too low your hair will frizz up and won't get as smooth. The very coarse and curly go with a temperature closer to 450°. If your hair is highlighted, or not that coarse use a lower temperature like 410°- 420°. If you want a little more in-depth look into what we look for in a flat iron, check out: Best Flat Iron.
 Step 1) Clean & Condition Your Hair
A good straightening starts with a thorough cleansing of your scalp. You want to make sure you're using a shampoo that will cleanse your scalp and remove excess oil to ensure your straight hair will last longer.
I suggest using 2 different shampoos and doing 2 washes before applying conditioner. Rinse, lather, repeat. First, use a shampoo like Malibu Un-Do-Goo. It's a gentle, sulfate-free, clarifying shampoo that removes build-up and moisturizes at the same time. For your second shampoo use smoothing or moisturizing shampoo. One of my favorites is Morocconoil Smoothing Shampoo. You want to follow that up with a smoothing conditioner, or if your hair is feeling extra dry take the time to do a deep conditioning mask.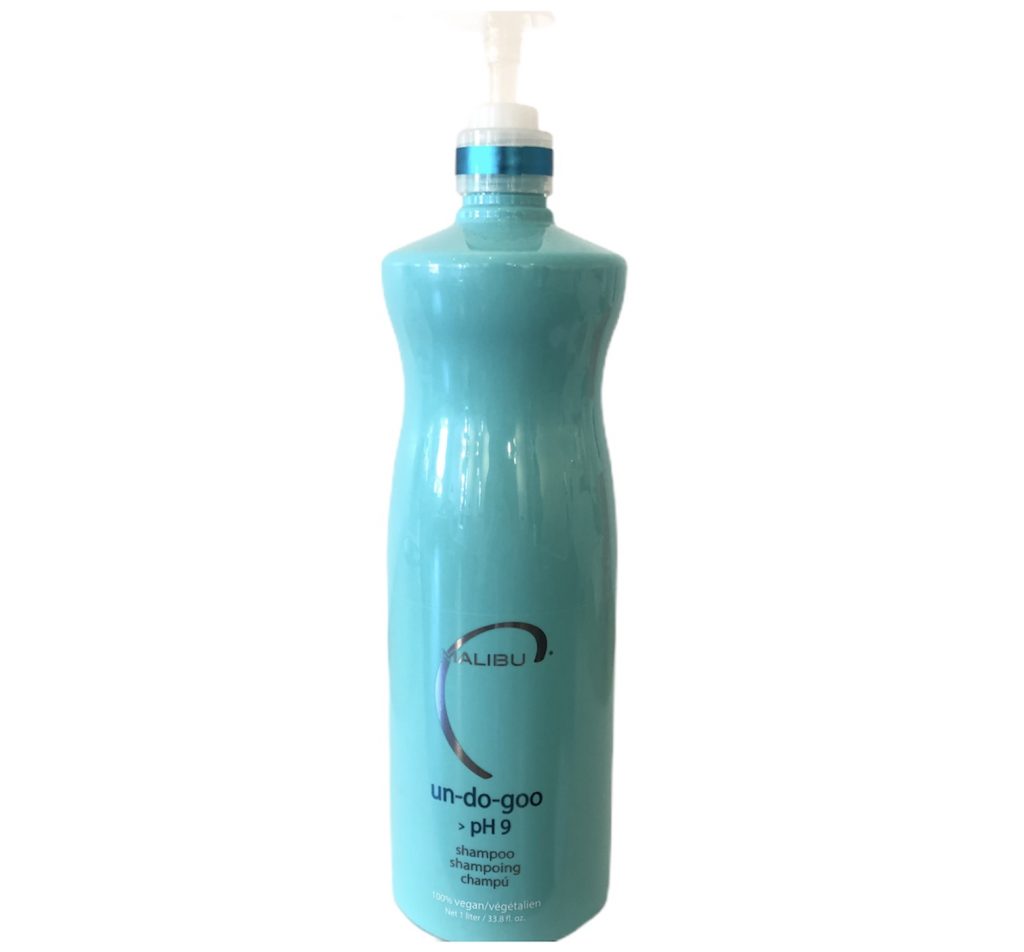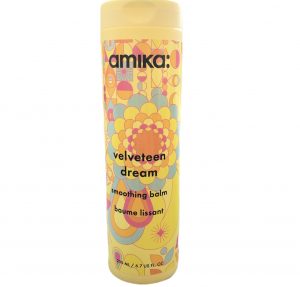 Step 2) Prep You Hair With Product
Use a heat protectant serum or cream before you blow dry or blowout your hair. Using a thermal protection product will do a few things for your hair:
It will protect your hair from the heat

Make it easier to smooth

Allow your straight hair last longer
Choose Your Hair Adventure
You can dry your hair 2 different ways. The first is to simply dry it using a concentrator to reduce frizz, and then flat iron it. The other is to blowout your hair straight and only use the flat iron if necessary.
Step 3) Blow Dry
After you prep your hair with hair product it's time to get it dry. Dry your hair with a concentrator nozzle on your hairdryer, this will help reduce frizz. Start holding your hairdryer over your head and point the nozzle down while running your fingers through your hair, and work your way down to the ends. Repeat until your hair is completely dry. You don't want any moisture left in your hair.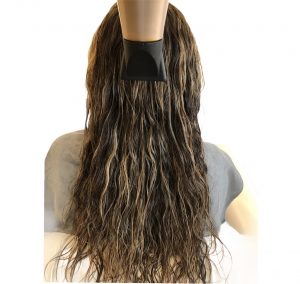 Alternative Step 3) Blowout
Take the time to blowout your hair with a round brush. After you apply a heat protectant to your damp hair pre-dry your hair about 50%. Next, smooth your hair using a round brush, making sure you've removed all the moisture from your hair.
The blowout will get your hair closer to straight before flat ironing, but it's also a bit more difficult to learn. If you learn it, and really master blowing out your hair, you might eventually be able to skip the flat iron entirely. Once you've got it down, doing a straight blowout is a great way to straighten curly hair without a flat iron.
Step 4) Section, Tension, Flat Iron
Sectioning – After you dry your hair, you want to spray it with a heat protectant for ironing hair like Amika's "The Shield". When flat ironing curly hair you want to make sure you take small sections. Your section shouldn't be wider than the hot plate of your iron, and a ¼ inch thick. The thinner a section you take the smoother and straighter your hair will be.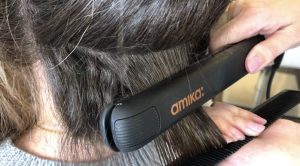 Flat Ironing – Place a heat resistant comb at your roots, and pull it through your hair just enough for a flat iron to fit in between the comb and the roots while keeping tension on your hair. Now follow the comb with your flat iron all the way through the ends of your hair. Continue this until you're done. Hair spray is optional. If it's a super humid day I would suggest using a light hold hair spray.
How To Make Your Straight Hair Last
Finally, learning how to flat iron curly hair can be a lot of work, so let's make sure your hard work lasts as long as possible. Here are some tips to keep it straight.
Be light on using products after you finish flat ironing. A little hair spray is good, but adding oils or a strong hairspray can weigh down your hair and create build up.

Don't tie it back right away

Sleep with a silk pillowcase