In The Little Mermaid, Ariel made it look so easy to just pick up a fork and brush her hair. Maybe if you're a mermaid that works, but here on land you need something more appropriate for the job. Using the right hairbrush for the job will make your life a lot easier and keep your hair healthy.
When To Use What Hair Brush

Round Brush – Round brushes comes in many different sizes and styles. This style brush will give your hair beautiful bounce and a perfect bend and curl.  A round brush is mostly used when blowing out hair of all textures. It helps give you the tension that you need to create a smooth blowout with the option to add curl. You should definitely have one of these brushes in your collection.
---

Ceramic Round Brush – A ceramic round brush has a barrel made out of ceramic so it heats up like a curling iron. This style round brush is great for all hair types and is perfect if you want to create big bouncy curls. When using a ceramic round brush make sure you keep it moving through the hair. The only time you can keep the brush in one spot is if you are letting your hair cool around the brush to lock in curl. Never hold the hair dryer on the brush in one spot, this can damage the hair. This is the type of brush you're going to be using for a blowout. [See Also: Best Round Brush For Blowouts]
---

Wooden Boar Bristle Round Brush – A brush with natural bristle creates more tension and adds crazy shine. Boar bristles work great on fine hair to give it volume. If you are a master with a round brush you should definitely have a natural bristle, wooden barrel round brush.
---

Paddle Brush – You may already have a paddle brush, but do you know how to use it? When you need to get through knots and tangles whether your hair is wet or dry, hold the brush vertically ↑↓and brush your hair. If you want to create a straight smooth blowout with no bend at the ends hold the paddle brush horizontal ⇔ which will create tension to help smooth out your hair.
---

Teasing Brush – Sure you can use a comb to tease your hair, but this article is all about the right brush for the job, so let's talk about a teasing brush. It's made with boar bristles and nylon bristles which are different heights so the bristles grab your hair when you comb. The key to back-combing is to hold the section of hair you want volume in up and taut. Place the teasing brush about an inch up from your roost and brush down. Do this until you have reached desired tease. DO NOT brush up and down this will cause your hair to break and knot up. Just go down.
---

Vent Paddle Brush –Similar to a paddle brush, but instead of the base being solid it has vents to allow air to flow through the brush.  It's great to get your hair dry quickly, but won't give you a perfect blowout. But sometimes imperfect can be perfect.
---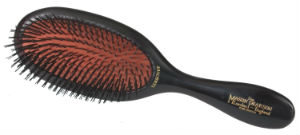 Healthy Hair Brush This styles brush is similar to a paddle brush but it helps distribute natural oils from your scalp through to the ends of your hair to promote health. Natural oil from your scalp are great for your hair. Made with boar bristles so it's gentle on your hair and massages your scalp which promotes circulation. Perfect to use before bed.
---

Heat Resistant Carbon Comb – This comb is perfect to use when you're flat ironing your hair. It won't melt and get all bent out of shape. Place the comb in front of your flat iron as you move down the section of hair to make sure your there are no knots and to guide the flat iron. This will give you a perfectly straight look.
---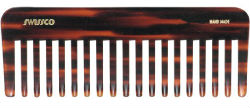 Wide Tooth Comb – Calling all curls. I keep my wide tooth comb in the shower because it's best after you wash your hair to comb the conditioner through in the shower. This will get all your curls nice and conditioned and detangle your hair. No need to comb when you get out.
---

Fork – JK, unless you're a mermaid! XOXO
Check out Best Brush Breakdown to learn more about all the awesome brushes out there.